In 1932, Ernie and Ellis Lewis founded Lewis Farms in the Winterburn area west of Edmonton, AB. Jack, the only son, married Laverne in 1956 and eventually took over the running of the farm. Jack, Laverne and their three children – Roy, Ken and Sandy, continued expanding the Lewis Farms to include the Spruce Grove operation in the 1970's. Today, the expansion of Lewis Farms includes a farm in the Sangudo area where summer grazing and calving occurs.
Jack, Ken and Corrie Lewis, Sandy Lewis and their children; Kyle and Kirbie Lewis and Jordan, Jamie, and Tyler Buba are all living on and involved with Lewis Farms. The veterinarian of the farm, Roy Lewis, resides in Calgary working as the tech vet for Merck Animal Health and his children Colton who is a medical doctor resident and Cali who is now a practicing vet out of Westlock all help at different times of the year. Employing full and part- time staff, Lewis Farms grows 400 acres of seed potatoes, 3000 acres of grain and run 1000 purebred Simmental and Angus cows.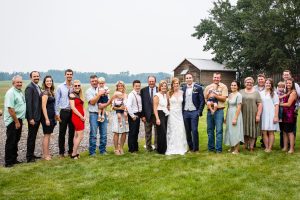 Simmental genetics were first introduced to Lewis Farms in the late 1960's and early 1970's with imported semen. Munter, Harold, Prairie Boy and Renz were some of the importedsemen sires used by Lewis Farms. The first registered simmental cows were purchased in the mid 1970's at the Golden Harvest Sale and the Northern Image Sale in Edmonton. In 1979, Lewis Farms bought a group of Fullblood heifers from Nick Berjian in Calgary, and the Mapletoff's at Frenchman Butte.
In 1981, Lewis Farms began consigning to the "Gateway Production Sale" held in Westlock, AB and continued for a number of years. Lewis Farms held their first on-farm female sale in 1983 and ran it untill 1985 with four other producers. In 1895, Lewis Farms held "A Touch of Class" sale with fellow breeders. From 1986 to 1994, Lewis Farms held the "Classic Reflections" female production sale back on the farm.
In 1985, Lewis Farms started their annual on-farm bull production sale. The first year, 37 bulls were sold along with 5 females. In 2006, the 22nd Annual Lewis Farms Bull Sale offered 200 Simmental bulls, a number of Angus sires and 100 commercial females to cattle producers. Held on the last Saturday of February, Lewis Farms offers Red, Black, Fleckvieh and Fullblood Simmental genetics along with a handful of Red and Black Angus sires.
Lewis Farms is evolving with every generation working together on the farm. Moving towards more summer calving production and calving less of the herd during winter months, shows the changes within the operation. Keeping quality genetics as a foundation, Lewis Farms strives to meet the purebred and commercial breeders needs in today's ever-changing and competitive beef industry. Homozygous testing, embryo use and artificial insemination along with walking herdsires are utilized on the herd to produce genetics that are in demand.
Lewis Farms are active with 4-H and the YCSA. Promoting the positive involvement of youth in the cattle indusrty, Lewis Farms hope that the next generation of young cattleman/cattlewomen will continue to grow along with the farm. Built on a foundation of a family working together over the past 70 years, Lewis farms has become a strong and growing force within the Simmental Breed.